General Information
Name: Ruby Serrano (Formerly Heartstone)
Origin: Cormyr
Race: Human (Vampire)
Age: Exact age unknown
Gender: Female
Class: Blackguard
Deity: Colibrus
Alignment: Lawful Evil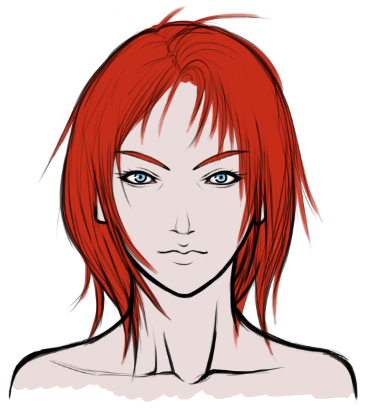 (Art by the awesome Nyssis)
Appearance
Ruby appears to be a young woman of average height and weight. Her eyes are a light blue, and tend to hold an unwavering harsh look. Her skintone is deathly pale, and her face holds no blemishes. She almost resembles a porcelain doll.
Her deep red hair is cut short, fashioned in the way of those who are warriors. Her expression generally remains muted, only changing when she becomes angry. Which, for her, happens quite often.
When out and about, she is dressed in red and black armor. Along her back lies a large greatsword, always within easy reach. She moves with the grace of a seasoned warrior, and watches others with a predatory gaze.
Personality
Ruby is a cold and callous woman. As she continues to live the life as a Child of Colibrus, her humanity continues to fade. She takes pride in her position among others, considering herself higher than most. As a vampire, and a faithful of Colibrus, she considers herself a noble being and able to take what she wishes to.
Before being changed into a vampire, Ruby was never a very pleasant woman. She conspired, and killed others whenever she had the chance. Even while she was still alive, she was excellent at swordplay. And now, with her change, she carries immense strength.
Every now and then, Ruby will give into a fit of rage. And when this happens, there is bound to be carnage in her wake.
Significant Relationships
Amilynn Steles: When starting a relationship with Cirion, Ruby soon learned that he had been involved with the Sunite at the same time and soon left her to be with Ruby. It caused immediate hatred to bloom between the two women, and they have been at war with each other ever since. When Ruby encounters her, the result is usually disastrous.
Cirion Reliun: Her first love after she arrived to Sundren. She was charmed by the attentions he gave her, and quickly grew to trust him. She even told him her deepest secrets before she was turned, and still continued to visit him after becoming a vampire. Her love for him was doomed to fail, and in the end their differences drove them apart.
Dain Tornbrook: The paladin has been a thorn in her side ever since she has turned into a vampire. As they both grew in power, they fought constantly. One night, Dain turned over an artifact and in turn Ruby was allowed to feed from him. Ever since that moment, Ruby has become obsessed. He has since grown with immense power, and is constantly able to defeat Ruby in battle. But Ruby is determined to one day make the paladin hers.
Darius Blackwell: A second paladin who has been a problem for Ruby. She has met and spoken with him only a few times, but each time has continued to pique her interest. It is unknown how things will turn out between the two of them.
Emiliana Blackwell: Since learning of the relationship between the Legionaire and Dain, Ruby has taken a special interest in Emiliana. She considers the woman a threat, and will stop at nothing to put an end to her. Now that Ruby knows the relationship between Emiliana and Dain is no more, she still sees the Legionaire as a threat. She has had many hostile encounters with the other woman.
Grann Fearnimane: A man who had much influence over Ruby. She met the man after she was turned, and after getting to know him and teaching him the ways of Colibrus, she was given permission to give him the Gift. Grann was the one who always kept Ruby from crossing the line in being a complete monster. But, with him not currently around, she has no one to remind her of humanity.
Isolde: Her friend and companion who traveled with her to Sundren. She took the role as a protector of the frail and sickly woman, and they both soon became quite powerful. When Ruby was given the Gift, Isolde too was turned. Though they were turned by different sires, they both considers themselves to be Sisters in blood.
Thrasius: The two have a long history with one another. Thrasius was one of the first she met when reaching Sundren, and was soon fascinated by him after learning about what happened. She credits Thrasius for her being how she is today.
Other Information
(Awesome art by wangxiuming!)
Ruby and Emiliana Blackwell: