General Information
Name: Lady Emiliana Renée Blackwell
Nickname(s): Emmi; Em; The Iron Fist of the Legion; The Muse of War
Player: FoogooFish

Race: Human
Gender: Female
Age: Twenty
Birth Date: Marpenoth (October) 27th
Birth Year: Year of the Arch (1353 Dale Reckoning)

Height: 5'2" (~158 cm)
Weight: 110 lbs. (~50 kg)
Build: Athletic

Hair: Blond
Eyes: Blue
Skin: Lightly Tanned

(Artwork found by pkisawesome; Artwork drawn by Michelle Chuang)
Overall Appearance
Emiliana is a petite young woman who typically keeps her long, golden-blond hair tied in a stylish ponytail. Intelligent, alert blue eyes constantly peer at her surroundings. While not graced with divine beauty, she is attractive in her own common way.
Although she can still move with an effortless, cat-like type of grace when a situation requires it, her training and duties as a Legionnaire has developed the strength in her muscles to where she can tote a massive tower shield - and a wounded soldier over her shoulder - with ease.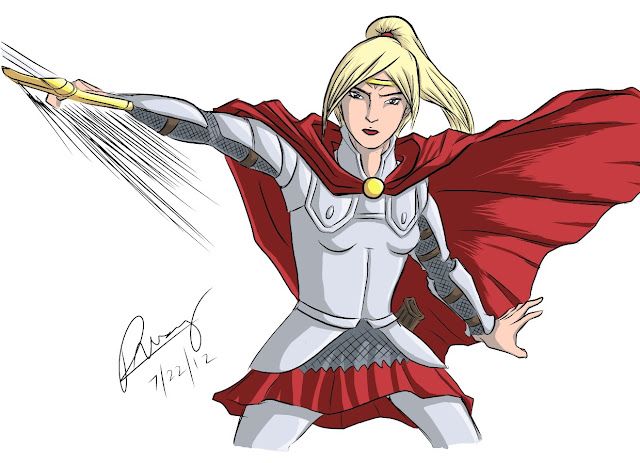 (Artwork drawn by Wangxiuming)
Overall Personality
Emiliana is a good-hearted, generally kind person who tries her best to help others and work towards 'the greater good'. Although she can have a stubborn, impatient streak when pushed past her personal limits, she has effectively mastered the art of presenting herself as a stoic, impassive soldier. Where once she was able to adapt her behavior to fit most situations, she tends not to bother with the attempt unless there is a pressing need.
She is a hopeless romantic and an eternal optimist, but these beliefs have had a healthy dose of practicality added to them during her time in Sundren. Emiliana secretly still believes in the power of true love being able to conquer everything, but her numerous romantic failures have also led her to believe that this mantra applies to everyone except herself. She firmly believes that good will ultimately triumph over evil, and she is accustomed to being the underdog in the ongoing fight against wickedness. The suffering of others pains her, and she would experience untold miseries herself rather than allow others to wallow in agony.
Despite her free-spirited nature and initial rebellion against a military lifestyle, Emiliana has become very proud and extremely serious about her career as a Legionnaire. She was once annoyed by the mundane law enforcement aspect of the Legion, and she used to struggle when handling unruly adventurers and overwhelming situations. However, she gradually adopted a more austere, unwavering persona when in uniform, and she ultimately earned the moniker 'The Iron Fist of the Legion'. Her no-nonsense demeanor and reputation, as well as her proven leadership skills and battle abilities, now allow her to command order even when faced with the most chaotic of situations. Unfortunately, these stalwart traits have also led to a collection of enemies, and so Emiliana tends to be suspicious and distrustful of most people until their worth is proven to her over time.
Her desire to keep the people of Sundren safe and protected, as well as her complete loyalty to the State, is what keeps her in the Legion, where she hopes to continue her work for many years to come. Her rise through the ranks has bestowed upon her the great responsibility of tempering justice and judgment with compassion and understanding, and finding that balance is something towards which she continuously strives.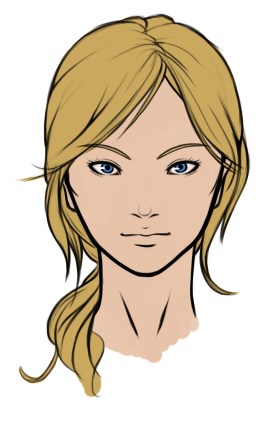 (Artwork drawn by Nyssis)
Background
Emiliana is a native of Waterdeep, the City of Splendors. She is the youngest child of Matthias and Alana Keenan Blackwell; both parents are well-respected military leaders within Waterdeep, although Matthias Blackwell recently retired from service. Emiliana has an older brother, Darius Blackwell, who also lives in Sundren Valley.
The entire Blackwell family is steeped in a rich military tradition. Emiliana's parents, cousins, aunts and uncles, grandparents, great-aunts and great-uncles, and great-grandparents have all served as soldiers and military leaders in some capacity or another for many generations.
Although not born into nobility, Emiliana enjoyed a comfortable lifestyle in Waterdeep. She demonstrated a talent for creativity at an early age, and the intelligent child was tutored in a wide variety of academic and artistic subjects. Her affinity for music and the arts has resulted in her becoming an accomplished performer with a powerful soprano voice, and her love of reading and learning new things provides her with the ability to know a little bit of information about everything.
Free-spirited, stubborn, and rebellious, Emiliana gave her father fits (as well as gray hairs) during her youth. She shunned the military lifestyle, and she refused to accept offers to join Waterdeep's forces alongside her parents. She also rejected several offers of courtship and marriage from soldiers and noblemen alike, stating that she would never be involved with a soldier or marry a nobleman for anything other than love.
When she reached her eighteenth birthday, she decided to leave Waterdeep and travel north to visit with her cousin, Lysandra Blackwell, who had written Emiliana about her new life in the relatively unknown place.
Time In Sundren
Year 2010
November / December 2010
Emiliana arrived in Sundren full of energy, curiosity, and naïvéte. She quickly made numerous friends and allies with her good-spirited, friendly nature.
One of the first people she met was a young, gruff soldier named William Shepard, for whom she developed an immediate dislike. He, as well as Lysandra, were a part of the respected Sundarian Legion. Despite Lysandra's encouragement, Emiliana steadfastly clung to her decision never to become a soldier. However, spending time with her cousin - as well as William, for whom she was reluctantly developing affectionate feelings - slowly pushed Emiliana towards wanting to belong to something greater than herself.
Darius Blackwell, her brother, arrived in Sundren Valley a short time later, and his path as a paladin of Torm took him towards the Triumvirate. By this time, Emiliana and William had become romantically involved. Lysandra was chosen to be the new Warden of Wrath, tasked with defending Sundren from her enemies, and those enemies soon attempted to torment her by kidnapping and torturing both Darius and Emiliana in turn.
Right after she pledged herself to the Legion, Emiliana was abducted from the washroom of the Second Wind Inn while cleaning her new uniform. Her captor subjected her to many different physical and psychological tortures, including wrapping her in razorwire and suspending her from a balcony overlooking a lava-filled ravine. Her allies rallied to save her by utilizing a Wish spell, and William whisked her to the safety of his personal quarters so that she could recover from the traumatic experience.
Thankfully, she did not lose her optimistic spirit after the ordeal, and soon she was learning about her new role in the Legion. She traveled with many companions, including a new friend named Johanna Patson, and Emiliana experienced many new and wonderful sights throughout Sundren Valley. She also garnered the attention of a powerful vampire, Isolde, who became enamored of Emiliana's musical talents after hearing the bard perform.
At first, Emiliana was curious about the vampire, as Isolde seemed different from the other undead creatures whom were feared and despised by the rest of Sundren society. Emiliana willingly performed again for the vampire, and Isolde 'rewarded' the bard with an erotic, dream-like experience that masked the otherwise terrible nature of a bite. Unaware that the vampire had fed from her, Emiliana continued her tentative association with Isolde and her then-human lover, Lilene Jora.
Emiliana helped bring about the love affair of her cousin, Lysandra, and another Legionnaire, Cillian Grant. The two had danced circles around each other for a long time, and Emiliana was elated when they finally admitted their feelings for each other after she intervened. The new couple unexpectedly, and uncharacteristically, left the Valley together - and Lysandra effectively abandoned her position as Warden of Wrath.
During a chance encounter with Lilene, in which she asked Emiliana to perform for herself and Isolde again, William became angry and incensed when he learned that the pair had taken an interest in Emiliana. He used his status in the Legion to arrange an arrest warrant for Lilene, and she and Isolde were forced into hiding. Emiliana secretly met with Lilene during this time, and she heard the story of the pair's unconventional romance. Emiliana later met with Isolde, and when the vampire revealed that she had fed upon the bard, William overheard. Again, the soldier was angry and incensed, but his anger was not directed at the vampire. Instead, it was directed towards Emiliana. The two argued and nearly ended their relationship, but William eventually gave her an ultimatum: him, or her curiosity about Isolde and Lilene. Emiliana chose William, and she refused any further contact or associations with the couple.
Emiliana's devotion to William - and the Legion - displeased her close friend, Johanna Patson, who had gotten romantically involved with Emiliana's brother, Darius. Free-spirited Johanna did not want to see free-spirited Emiliana's personality broken, but Emiliana refused to go against the wishes of her lover. The two friends were estranged for a time, but they eventually made amends. Johanna soon started to associate with Isolde and Lilene in a similar manner as Emiliana had done.
William and Emiliana started living together in his small room at the Four Lanterns Inn, and then William found them a larger, more lavish suite at the posh Sundren Comfort Inn. Shortly after they moved there together, William began spending more and more time away from home completing assignments for the Legion. Days and days started to pass between his visits, and then one day Emiliana realized that he was missing. Attempts to locate him failed, and Sendings went unanswered. In the time that followed, Emiliana eventually and reluctantly accepted the fact that the man she loved was gone.
Year 2011
January 2011
Emiliana was promoted to Sesquiplicarius - a junior officer within the Legion - for her various commendable deeds and the reports she submitted. She was also tasked with more behind-the-scenes duties for the Legion. Her work kept her busy, and it allowed her to grieve the loss of William. Soon, in the midst of an awkward quasi-romantic attempt with Marcus Helevorn, Emiliana met a handsome man from Cormyr named Ulrich Lecuyer, who was favored by Kelemvor. Emiliana and Ulrich grew increasingly close, and Emiliana had a hard time allowing herself to fall for someone new when she still felt obligated and loyal to William. With the support of her friends and family, and comforted by Ulrich's patience and understanding, Emiliana finally moved forward in life with Ulrich by her side as both a lover and a fellow Legionnaire.
The couple faced a dire crisis at the very start of their relationship. Aided in part by famed paladin and Judicator of Wrath Dain Tornbrook, a powerful group of vampires completed an ancient ritual that revived the old God of Death, Myrkul. Myrkul and Kelemvor, Ulrich's patron, engaged in a short-lived battle that ultimately saw Myrkul's return to power. Ulrich refused to accept Myrkul as a patron, and Emiliana stood at her lover's side as they and others tried to convince the people of Sestra not to burn down the Temple of Kelemvor. Ulrich and his faithmates later burned the temple themselves after gathering important items.
On the heels of Ulrich's crisis of faith, Emiliana caught the eye of Isaac LaCroix, who at the time was the Centurio of the Fourth Legion in which both Emiliana and Ulrich served. The Centurio was also a part of the noble LaCroix family - one of the first families to settle and rise to prominence in Sundren. He first insisted that Emiliana be his escort to the masquerade party hosted by Aurora of the noble Hellstrom familly. Emiliana politely declined, as she and Ulrich already planned to attend together, but then LaCroix gave Emiliana troubling news: the nobles of Sundren were angry at Emiliana's cousin, Lysandra, for abandoning her duties as Warden of Wrath, and as a Blackwell, Emiliana's own career as a Legionnaire was in danger. Shocked by the revelation, and wanting to keep the career that she had grown to love, Emiliana agreed to attend the masquerade with LaCroix.
The nobleman summoned Emiliana to his lavish manor prior to the masquerade, and there they spoke in greater detail. LaCroix felt that Emiliana was too valuable as a Legionnaire to be ousted by the whims of fickle nobility, but he emphasized that they wanted vengeance for Lysandra's perceived betrayal. LaCroix then surprised Emiliana by proposing marriage to her - an arrangement of mutual benefit for the both of them. She would receive all the protections that nobility were granted, and in return, he would receive her expert information-gathering skills as well as legitimate heirs one day. LaCroix even promised that she could keep any lovers she wanted, which meant that she would not be separated from Ulrich. LaCroix promised that she had a choice, but Emiliana felt his words meant otherwise.
Ulrich rebelled against the idea when Emiliana first told him of what she and LaCroix had spoken, but Ulrich relented when Emiliana told him that she would surely be ousted from the Legion if she refused the proposal. Ulrich had the idea that he could be installed in the LaCroix household as Emiliana's personal guardsman, and since he had recently chosen Helm as his new patron, the pair felt that the task was appropriate. All they had to do was convince LaCroix, and he had promised to speak with Emiliana again prior to the masquerade.
It was not until the night of the masquerade that Emiliana and LaCroix were able to speak, and by that time the nobleman appeared to have changed his mind. He promised that Emiliana's career would not be affected by the nobility, and he told her that he understood that Ulrich was her priority. Confused but happy, Emiliana informed Ulrich of the good news, and the two were soon engaged to be married.
A routine conversation with her brother at the Crossroads started a chain of events that would forevermore change Emiliana's life. A man named Hart arrived and started acting odd, and so he was taken to the Temple Barracks of the Triumvirate for observation. He wanted to speak with Aeria Gloris, a paladin of Helm. Once the paladin arrived, Hart revealed his involvement with the infamous Black Hand organization. Hart also named Emiliana's close friend, the mystic Mortannis, as a priest of Colibrus involved with the Black Hand as well. Emiliana was forced to find her friend, bring him to the city jail for questioning, and ultimately arrest him for the information he revealed to her.
Already stunned by the things Mortannis admitted, Emiliana was further startled when someone with keys to the cells had to be found - and none other than William Shepard walked into the jail. The former lovers conducted themselves in a professional manner while handling the prisoner, but William was distant and evasive of Emiliana's questions once they had a moment alone to speak. Emiliana was deeply hurt by William's seemingly cold actions, and she decided that she needed to leave the Valley for a short time. After packing a few things, she and Ulrich left Sundren and traveled to Waterdeep so that he could meet her parents.
February 2011
Tragedy struck as Emiliana and Ulrich returned towards Sundren. The pair were ambushed by a Luskan patrol, and Ulrich was killed by a powerful mage using a Disintegrate spell. Heartbroken by the loss of her fiancé, Emiliana arrived in Sundren only to find the Valley in a state of martial law.
Although she tried to focus on her Legion duties, Emiliana entered into a severe state of depression and kept her distance from most of her friends. She eventually suffered an emotional breakdown at the Sunite temple, but her closest friends helped her through her troubled state. Shortly after recovering, Emiliana aided Dain Tornbrook and others in a fight against the infamous vampire Clive Tarsus. Emiliana was heavily injured during the battle, but Dain took her to the Temple of Helm to recuperate.
A short time later, Emiliana was recruited to command a secretive mission by Arch Magus Rasmus of the Hands of Mundus. The endeavor, which joined Triumvirate and Legion forces, sought to intercept an artifact of power from a group of Colibrite vampires. The mission force successfully defeated the vampires, and the artifact was destroyed by Darius Blackwell. The destruction, however, caused black lightning in the sky and frightened many throughout Sundren Valley. Still, the mission was considered an overall success, and Emiliana was promoted to Salararius - a senior officer position within the Legion.
The new senior officer was caught unawares when the same black lightning swirled around her several days later when she was speaking to the Sannesets outside their rooms. Once the thick, charged air settled, Emiliana was left with a dark mark on the back of her left hand. The mark was in the shape of a perfect black circle - the symbol of Shar. Erik Halfgar soon developed a similar mark, as did Aurora and Darius. Numerous magical tests were conducted on Emiliana's mark, but no conclusive results were obtained. If she focused upon the mark for a short time, she could bring the darkness to life and have it swirl around her. If she focused longer upon the mark, its energy would coalesce and strike at the closest target. Emiliana took to wearing gloves or gauntlets at all times.
Despite her efforts to contain knowledge of the marks, others throughout the Valley began learning about them. Soon, some Red Wizards of Thay showed an interest in learning about the marks and what caused them, and Emiliana and Aurora got into an intense confrontation with Ramza Xantheus and Pyras Demathos. Lilene Jora, now a vampire as well, began to stalk Emiliana in an attempt to learn more about the mark, and the pair got into a physical altercation in the Unstoppable Forces weapon shop in Sundren City.
It was during her time bearing the mark that Emiliana got closer to her friend Mortannis. The two finally kissed during an evening spent together at the dock in Aquor, and Mortannis spoke of a life they would share together as well as a daughter they would raise. As much as Emiliana enjoyed the pretty picture that Mortannis painted for her, she realized that the two of them would ultimately walk down different paths. Once she created some distance between herself and Mortannis, Emiliana began to view famed paladin Dain Tornbrook in a different light. She found herself wanting to catch sight of him in the Military Ward of the city, and she earned praises from him once she performed some of her music for him.
March 2011
The events of her life were slowly but surely starting to weigh too much upon her young shoulders. Ulrich's recent death, the mark upon her hand, her mixed feelings for both Mortannis and Dain, and the vampires that wanted her captured made Emiliana realize that she needed to leave the Valley for a time. She packed her things and departed back to Waterdeep in order to get well again. Her brother Darius, concerned for his sister's well-being, traveled with her.
After their departure, and for reasons still unknown to them, the marks upon their hands abruptly vanished overnight.
Note: Emiliana and Darius left because their players had to focus on their real lives.
August 2011
Emiliana and Darius returned to Sundren Valley, and the pair had exactly one day of peace before life returned to 'normal' for them. Emiliana quickly learned that Legion patrols had decreased during her absence, and criminals - including the lesser-ranking Black Hand members - were terrorizing the countryside. Together with her brother and Dain Tornbrook, the Legionnaire actively patrolled and successfully lessened the number of kidnappings, assaults, and other unlawful acts taking place. During one particular incident, Emiliana and Dain worked together to prevent an attack on the Second Wind Inn being coordinated by none other than her old friend Mortannis. When the paladin's blade struck Mortannis, the man's flesh dissolved into the red mist commonly associated with vampires, and Emiliana was faced with the grim reality that Mortannis had been turned during her time in Waterdeep.
The amount of time the bard spent with the Judicator of Wrath sparked the romance that Emiliana had desired for some time. The two were smitten with each other for all of a day before Emiliana stumbled into a situation where Dain and his elven friend, Lasvi Norreitryn, were being asked if they were a couple. Dain did not deny anything, and Lasvi seemed hurt and disappointed when Emiliana revealed that he was romantically involved with someone (although she did not say it was herself.) The considerable amount of time Dain and Lasvi spent together unsettled Emiliana, and she and Dain argued when Emiliana revealed her insecurities regarding their fledgling relationship. The following day, despite Emiliana's attempt to apologize, Dain told Emiliana that they could no longer be together.
Emiliana was devastated, but she was also determined not to let yet another heartbreak ruin her life. She attended the second Provings tournament at the Van Hellstrom arena dressed in a fine black gown, and she smiled and cheered for many of the contestants. She and one contestant in particular, the intriguing Daniel Nobody, made friendly wagers throughout the tournament that resulted in Daniel owing Emiliana drinks at the Sundren Comfort Inn. Dain, also in attendance at the tournament, overheard their plans and later confronted Emiliana as to what happened with Daniel. She and Dain argued, as they were wont to do, but the argument briefly rekindled their relationship.
When Ruby Heartstone, the vampiress obsessed with Dain, somehow discovered that Emiliana and Dain were romantically involved, Ruby issued ominous warnings that culminated in a crude threat scrawled into Emiliana's door. However, Ruby was not the only vampire with whom Emiliana had encounters during this time. She and Mortannis, once one of her closest friends, had a confrontation in the Temple of Oghma where she told the vampire she knew the truth about him and warned him that she would fight against him. Although she had planned on leaving him in peace this one time out of respect for their friendship and affections, Mortannis challenged her to fight him now or never again fight him. Emiliana drew her blade, and she fought the vampire until she turned his form to mist.
Ruby's threats, Dain's hesitations, and his continued fascination with the elf caused the relationship between him and Emiliana to finally dissolve. She tried one last-ditch maneuver to earn his trust and convince him that she was the right woman for him, but the paladin was completely aloof and remained unmoved. Frustrated and confused by Dain's abrupt change of heart yet again, Emiliana barely balked when Mortannis knocked upon her door later that night. For a time, the two spoke as if they were old friends again, and Mortannis had her draw cards so that he could predict her future. Emiliana drew The Sage of Death, the card that had always been associated with Mortannis, and the vampire sympathetically told her that their story together was not yet complete. Mortannis held Emiliana in his arms and comforted her until nearly dawn, and then they parted company.
Ashamed of what she had allowed during her moment of vulnerability, Emiliana resumed her steadfast stance against Mortannis the next time she encountered him. Her change in attitude seemed to frustrate the vampire, who warned her that while he did not want violence, he would not hesitate to hurt her. When Emiliana aided a priest of Lathander, Trevor Lecarde, in sending Mortannis' misty form back to its coffin, she knew that the dynamic between her and Mortannis had forevermore changed. Numerous dead bodies were left littering the courtyard of the Sundren Comfort Inn a short time later, and while Emiliana had no direct proof that they were left by Mortannis, her instincts suggested that he was the one responsible.
Even though she was still grieving the end of her too-short relationship with the paladin she had loved, Emiliana decided to ask Daniel Nobody to dinner. The date was awkward in the beginning, but a glass of wine and Daniel's exceptional conversational skills quickly relaxed the nervous Legionnaire. She plainly told the gray-eyed man that she had no expectations besides friendship and conversation, and she made him well-aware that she was still protecting a broken heart. Daniel seemed to appreciate her blunt honesty, and the two agreed to spend time together when possible. However, a chance meeting with Lord Cyrus Van Hellstrom - and the implication that she would be summoned to Castle Van Hellstrom for dinner with the nobleman - had Emiliana concerned that her personal life would never truly belong to her.
September 2011
The failure of her relationship with the paladin still heavily weighed upon Emiliana's mind, and she sought the advice and support of many of her friends during her grief. The Legionnaire had little time to focus upon her despair, though, as she was asked to accompany an expedition of into the Abyss. The purpose of the trek was to reclaim the soul of a former paladin of Torm, Balthasar, who had fallen from grace prior to his death, from the demon lord Kostchtchie. Mizrahi, the main representative of the Right Hands of Mundus and a personal friend to the fallen paladin, told the group that a portal to the Plane of Lost Souls and Many Portals awaited them in Argyle Keep.
Once they were ready, the group - consisting of Emiliana, Darius Blackwell, Dain Tornbrook, Tigen Amastacia, James Arrow, and Anasath Zesiro - traveled to Argyle Keep and received instructions and aid from Mizrahi. He outfitted all of them with invisible tethers that would allow them to be returned to Sundren Valley should otherwise fatal harm befall them, but he cautioned that he would not possess the energy to return them to the Abyss again. Dain had some of his divine radiance tempered lest his holy presence immediately attract the attention of all the demons in the vicinity. Anasath was entrusted with an orb that would serve as a planar map and guide. When all the preparations were in place, the companions steeled themselves for the arduous journey and entered the waiting portal.
Unfamiliar, acid-rain filled terrain greeted them - along with a demonic welcoming party - but the intrepid band pressed forward with their mission. The orb guided them as much as possible, but eventually the group came to a pair of portals and a winding staircase leading towards a temple-like building. The orb could no longer show them the path, so the assembled adventurers decided to explore the building first. An unstable bridge over a deep chasm nearly claimed James, but his quick-thinking and fast magics allowed him to find safety amongst his companions.
Undaunted, the group returned to the pair of portals, and one was chosen for the allies to enter. Horrific sounds of torture filled their ears as soon as they arrived, and soon the party learned that the souls of innocent children, ripped from the Fugue Plane, were being devoured by demons. The demons were promptly destroyed by the angry ensemble of Sundarians, but then the group was faced with a dilemma: how could they guide the souls back to freedom without compromising their original objective? As the majority of the expedition debated different tactics and strategies, Anasath did something unexpected. The priestess of Lathander prayed, and as her celestial pleas filled the air, the previously invisible tether lifted from her and surrounded the souls of all but one of the children. With a flash of holy light, the spirits were sent elsewhere into the Planes - and Anasath was left without the tether needed to protect her life.
The group pressed onwards, intent on completing their goal, but as soon as they stepped through the portal indicated by the orb, an ambush soon found all of them rendered unconscious by demons. Emiliana, along with the rest of her companions, awoke within the unforgiving confines of iron bars. Stripped of their possessions, the allies learned that they were to fight as gladiators for the amusement of none other than the demon prince Graz'zt, who served as the ruler of this particular layer of the Abyss.
One by one, they fought. One by one, they won - except for Emiliana. Fighting had never been her strong point, so when she entered into the arena, the bard used her showmanship to rally the crowd and Prince Graz't. The fight was close; she was within a sword strike of winning when her opponent - a type of fire giant - landed a lucky blow that rendered her unconscious. Emiliana woke a short time later to find that Graz'zt had felled the hapless giant with a thin ray of familiar green magic. Although disappointed in her defeat, Graz'zt spared her life since she had been 'so entertaining' and sent her to rejoin her companions.
A drow who said he had been held captive there for over thirty years was so impressed with Emiliana's near-victory against the fire giant and the courage of everyone involved that he agreed to help the intrepid band escape. Throughout the decades, the drow had managed to accumulate a small collection of weapons and helpful items, and he knew the layout of the prison well. Once everyone was equipped, the drow easily opened the locks to the cells, and Emiliana tiptoed behind him as they made their way through the darkened corridors. Three key gems, scattered throughout the prison, would unlock the main gate through which they could all escape. The demonic guardsmen also scattered throughout the prison posed a problem to the ill-equipped party, but they progressed all the same. Slowly but surely, they fought their way through the prison. The drow perished in one of the first fights, and Emiliana was heavily injured halfway towards freedom. The key gems were located and destroyed, and then the group chanced upon the holding cell where their belongings were kept. Once they were equipped for their journey again, the allies fled from the prison - only to emerge right next to the arena where they had all just fought. A dark, solitary figure was waiting for them in the middle of the now-empty field. Graz'zt's champion, feared throughout the Abyss, stood between them and freedom.
The champion wanted to fight the Judicator of Wrath, Dain Tornbrook, in an honorable duel, and so the stalwart paladin agreed. Emiliana and the others could only watch as the two foes engaged their blades in a beautiful, deadly dance of strength and skill. Ultimately, it was the paladin who emerged victorious, although he took a few blows throughout the mêlée. The way the champion conducted himself made Emiliana wonder if he was the soul they had been sent to save, but her thoughts were interrupted by the clamoring of demons moving towards them. The allies ran for their lives, hastened by Emiliana's music, and soon they reached a portal that would take them elsewhere. They paused to catch their breaths, and then one by one they walked through the shimmering ether. All emerged safe - except for Anasath. Before anyone knew what was happening, the portal started to close, and they could see the clawed hand of the demon prince emerging through Anasath's chest. Dain and Emiliana both dove towards the portal, but they were too late. Anasath had been captured by Graz'zt.
The shock of what had just happened rippled through the weary, recovering allies, and Tigen and James were forced to leave the Abyss to tend to the injuries they had sustained during their escape. The three remaining - Dain, Darius, and Emiliana - retrieved the map that Anasath had managed to throw through the portal before she was claimed by the demon and vowed to find a way to save her from his corruption and pressed onwards through unfamiliar terrain.
The trio soon came across a balor antagonizing a captive woman, and after the fiend was quickly dispatched, Knight Errant Anya Vellisrough - servant to Hoar - agreed to join with the group after explaining that she was stuck without a way home. Explanations were exchanged as to the purpose of their trek, and as the group continued onwards, they eventually reached an imposing castle. Anya revealed that she had been inside the maze-filled place, and it was there that the aspect of Kostchtchie could be found. The ice beneath their feet seemed to move, and a foreboding sense of evil filled the area as the allies realized into what they were heading. Still, they did not hesitate, and Anya revealed that she knew a hidden rear entrance to the fortress.
Once they had successfully gained entry, the four had to test their intellectual mettle against a complicated series of deadly traps and riddles while they progressed through the maze towards their objective. The original trio worked well together, but Anya seemed to keep her distance throughout the trek. Eventually, they all reached a vast chamber in which the aspect of Kostchtchie awaited them. The demand for the soul of Balthasar was collectively uttered, and when Kostchtchie challenged the group to take it from him, they promptly obliged.
Victory was not fully theirs to relish, however, as maddening laughter echoed through the cavernous hall. Graz'zt taunted them with words of their failure to protect and save Anasath, and then Anya was revealed to be a twisted, corrupt demonic form of Anasath in disguise. She was set upon the three, furious and emboldened by her newfound 'gifts' from Graz'zt, and one by one the allies succumbed to her vicious onslaught.
Emiliana and Darius found themselves back atop the tower at Arygle Keep; their tethers had allowed them safe passage back to their own realm. What seemed like an eternity passed atop the grim spire, and Emiliana held faint hope that Dain would somehow best Anasath so that she could be saved. When the paladin eventually appeared as well, the overwhelming sense of failure claimed them all. Anasath was fully lost to the demon, and no amount of tears or frantic plans to return to the Abyss would save her.
The Legionnaire allowed herself a few days to grieve, but then she had to push the failure from her mind. Intelligence reports indicated that the restless Bloodmaim Orcs of Mossdale Forest were poised to launch a sudden and vicious attack against the Second and Twelfth Legions stationed at Arbiter's Stand, and since several units - including the soldiers commanded by the famed Centurio Peridan Twilight - were elsewhere in Mossdale, there was a severe lack of personnel at the fortress itself. Emiliana was ordered to the Stand to aid, and to her surprise, she was handed command of the large group of adventurers - including Dain Tornbrook - that also arrived to assist the Legion. A battle strategy was formulated, and two teams needed to be created to see it implemented: one group would stay to defend the Stand itself, and another smaller group would flank towards the position of the orc chieftain commanding the Bloodmaim movements. The assumption was that if the chieftain was slain, then the orcs would fall into disarray. Emiliana thus appointed Dain, the most powerful combatant present, to lead the small group she chose to accompany him while she stayed at the Stand to command both Legionnaires and irregulars.
The subsequent battle was intense; war-band after war-band pounded against the meager defenses that the adventurers and soldier had time to erect. Magical wards were supplied by arcanists, and healers chanted their divine words nonstop. The ragtag group lacked proper supplies, and Emiliana had none to spare. Several people under her care lost consciousness, and the soldier was worried that her real first test of command would result in complete failure despite her attempts at keeping morale high. Just when she thought that her forces would be overwhelmed, Imperatu Verinus himself - flanked by the awe-inspiring Evocati and Centurio Twilight - arrived on the battlefield. The commander of the entire Legion gave a bolstering speech, thanked Emiliana for what she had managed to accomplish, and then assumed control of the situation. When the next wave of Bloodmaim crashed against the defenders, the orcs were obliterated by the powerful trained soldiers fighting alongside the Imperatu. The splinter group, successful in their task of defeating the chieftain, rejoined the main force a short time later, and the Bloodmaim eventually retreated into Mossdale once the death of their leader became known.
Once the battlefield had been cleared of the dead and the wounded were tended, Emiliana found herself elated at the unexpected victory and the praise she received from Imperatu Verinus. Her joy was short-lived, however, as the Judicator of Wrath chastised her for not providing supplies to the people who needed them and selecting a poor team to handle the orc chieftain. When the paladin informed her that he had given over twenty thousand stags worth of supplies to the people with him, Emiliana immediately offered to repay him. He refused, however, and the Legionnaire vowed never again to be unprepared for any situation.
A few days later, Emiliana bore witness to an incident that will forever be etched into her memories. Lasvi Norreitryn, the elf who initially captured the fancy of Dain Tornbrook, had been recently cast aside by him as well. The two women temporarily bonded over their mutual resentment of the paladin, but Lasvi's grief churned within her to the point where it was poisonous. The elf needed a way to channel her internal torment into something productive, and so she composed a powerful dirge intended to bring eternal rest to the denizens of the Necropolis. Despite repeated warnings against enacting the ritual, Lasvi stubbornly informed Emiliana and Dain of her intentions. The duo, along with Kyle Rendell, made their way to the massive graveyward to keep watchful eyes upon the determined elf.
The trek through the eerily quiet landscape gave the group pause, as the shambling zombies and clacking skeletons were nowhere to be found. Lasvi pressed on with purpose until she reached the innermost graveyard, but her momentum was briefly halted when Tigen Amastacia unexpectedly arrived. The spirit shaman warned Lasvi against her course of action, but his pleas were ignored despite the discovery of a roiling, oppressive black cloud in the midst of the Necropolis. Calls for the elf to cease her quest fell upon deaf ears, and Lasvi disappeared into the darkness to perform her dirge:
Shadows of fate on the horizon, looking into a past of flame. Shadows of fate on the horizon, looking to something that has no name.
No sympathy for those that would deceive in malice, their lives mistaken; I demand you release instead the humanity selfishly taken.
He who lived among mists and tempests, riding the wind across the sea; she who posed her question to purpose, unknowing of what her person be.
He who traveled the greatest road, sometimes alone and sometimes stronger; she who fought far beyond her limits, pushed when she could be pushed no longer.
A vicious man concealed in midnight armor burdened by unrequited love; An honest merchant scorned because of the value taut within his glove.
She who is immortalized through her benevolent power and sacrifice; a learned man forgotten when abandoned to his own device.
Do you know that this song is for you, tortured souls forced to abide?
Know I your story and proclaim it true, ev'ry grave upon which I stride!
Shadows of life on the horizon, cursed creatures drawn to night. Shadows of life on the horizon, malevolent things filled only with spite.
Ye who seeks to corrupt the eyes of the just and holy, hidden within mortality's meaningful stride; take them instead to the water's side, the Styx' edge!
A foolhardy man pressed luck on his final day; a loving mother died to let a stranger continue on his way.
There existed a tainted man whose final word was a broken seethe, and I will sing true his story as I continue to breathe!
An innocent heart taking vengeance for what slighted her love; the darkest, shattered soul that preached entropy swirling above.
A life of regret and penance satisfied only through an end; a curious child drowned when her boat tipped 'yond the bend.
A dead man walking, a sword for hire; life birthed then consumed 'pon a roaring pyre.
My heart goes out to those that deserve rest and receive none!
Shadows of death on the horizon that sigh under the weight of my hymn; shadows of death on the horizon that walk the precipice's brim...
And when naught exists but what we see or seem, take them back... back into their nebulous dream.
Woe be those that hear my song this day!
Living or dead, none yet can or will stand in my way.
The elf performed the ritual with such malice and vitriol that her song created malevolent spirits, and the spirits were then released into the Necropolis to feed upon and devour any sources of undeath they encountered. The mists dissipated around Lasvi, who was left weakened from the ordeal, and the group retreated to the Ilmatari section of the Triumvirate headquarters. Lasvi's blade, Storyteller, was confiscated by Dain, and the elf was soon ordered confined to the building at the behest of the Judicator of Wrath despite a lack of formal charges.
Emiliana and Tigen both felt that the paladin was too compromised by his residual feelings for Lasvi to make a sound judgment against her for her actions in the Necropolis, but neither had the authority to defy him. Emiliana requested that Lasvi be formally charged and relocated to the jail, but Dain disagreed. Lasvi thus languished for days upon days within the halls of the Triumvirate for refusing to acknowledge that she had committed any wrongdoings, and all efforts - even those of Emiliana herself - failed to convince the elf otherwise. She was permitted visitors, and one of them - another elf named Eirimil Gaelazair of the Left Hands of Mundus - felt he could prove that Storyteller was the culprit behind Lasvi's malicious actions. Before he could prepare the divination ritual, the she-elf - who was not guarded or locked within a room - fled from the Triumvirate, and Emiliana was finally able to take matters into her own hands.
The Legionnaire used her magical abilities to locate Lasvi within the Viridale, and together with Tigen, Emiliana finally took Lasvi into Legion custody and placed her in jail on necromancy charges. The following day, Eirimil was able to divine the true nature of Storyteller, and he determined that Lasvi had been influenced by the twisted and corrupt energies within the blade and could not be held accountable for her actions. The charges were then dropped against the elf, and she was released from jail. Before she departed, however, Lasvi heaped blame for her predicament in its entirely upon Emiliana and then cruelly severed all ties. Emiliana was left stunned by the abrupt change of attitude, and an ugly rift developed between the two women.
Emiliana was not left without female companionship, though, as her cousin Olivia Blackwell arrived during the midst of Lasvi's imprisonment ordeal. Olivia - who had traveled to Sundren at Emiliana's behest similar to the way the Legionnaire came for her other cousin, Lysandra - was oddly similar in bubbly temperament to the way Emiliana herself used to be before she gradually became "The Iron Fist of the Legion." The Legionnaire soon found herself re-enacting the same over-protectiveness and flippant dismissal of abilities towards Olivia that Lysandra Blackwell had once shown towards her, but eventual recognition of this fact swayed Emiliana from keeping Olivia at a distance. The cheerful, younger Blackwell was eager to work towards her goals of serving Valley and the Morninglord, and Emiliana helped guide Olivia towards the local sect of Lathanderites.
Her frequent patrols brought Emiliana into contact with a variety of individuals, but one man in particular never failed to pique her interest - Daniel Nobody. In the days following her successful defense of Arbiter's Stand, he was there to offer congratulations and praise for her efforts. A dinner-date between the two was interrupted so that Emiliana could accompany Lasvi into the Necropolis, and the Legionnaire appreciated Daniel's quiet acceptance of her duties being placed first and foremost. The time they spent together, although infrequent, resulted in Emiliana wanting him by her side, and she chanced telling him as much during an impromptu lunch at The Half-Pint in the Entertainment District. Daniel would not agree, but he assured her that his concern was a result of his past and not a sign of disinterest. The two shared their first kiss in a darkened corner of the tavern, and despite the affirmation of a relationship, Emiliana felt the first vestiges of optimism returning to her as far as her love life was concerned.
October 2011
A trio of Blackwells - Darius, Emiliana, and Olivia - were called into the Temple Barracks of the Triumvirate by a Tormite priest, who had grave news to share. A host of demons had gathered in the mountains north of Aquor, and plans were in motion to launch an three-pronged attack against the waiting army before it could move upon the calm resort town. Darius and was selected to lead one of the two flanking groups while Dain Tornbrook would lead the main charge. As expected, Darius asked his sister and cousin to fight alongside him.
(( To be continued! No, really. I am going to finish writing this stuff. I have an outline and everything.
- Meeting Maneae Strong-Arm
- Daniel's Distance ))
November 2011
(( - Ruby Heartstone's Obsession
- Elementals Invade
- Daniel's Farewell of Sorts
- Mythradin's Capture & the Truth Revealed ))
December 2011
(( - Battle Planning with Ryland
- Successful Defense of the City
- Confronting Daniel with the Truth
- Promotion to Centurio
- Reassignment and Extended Field Maneuvers ))
Year 2012
January / February 2012
Note: As before, Emiliana's absence was because her player had to focus on her real life. FoogooFish and YourMoveHolyMan, the player of Darius Blackwell, finally got married on January 22, 2012. Two weeks later, they moved into their brand new house and realized that houses require a lot more effort than apartments!
March 2012
(( - Return from the field & Romantic involvement with Ryland
- Johanna's Return & The Friendly Wager
- Darius' Madness
- Sile's Disgrace
- Artifact of Shar & The Battle Amongst the Hands
-Hadavi's Confrontation
- Sebastian's Victory ))
April 2012
(( - Ryland's Transformation
- Sile's Rehabilitation
- Anasath's Search for Answers
- The Fall of Arbiter's Stand
- Trying to Protect Maia
- The Battle at Necropolis ))
May / June 2012
(( - Bhaal Murders (The Washer Woman)
- The Return of Amilynn Steles
- Bloodmaim Attacks Increase (Crossroads and Viridale)
- Legion / Triumvirate / Helmite Training Collaboration
- Combined Forces destroy Viridale Crypt ))
July 2012
(( - Bloodmaim Attacks in the Sharahan Hills
- The Return of Dain Tornbrook
- Heart-to-Heart with Tigen
- A New Legionnaire
- Maneae's Mark ))
August 2012
(( The Battle of the Viridale
Coordinated Rescue Missions
The Fall of Sestra
The Black Hand Advances on Sundren City
The Death of Maia Nanethiel
The Second Sundering ))
September 2012
(( Post-Sundering Chaos
Promotion to Myrios & the Creation of House Blackwell
Awards Ceremony
Increased Legion Activity ))
October 2012
(( Land-grabs & anti-Legion sentiment
Continued Legion Activity - Recruitment
Tivan Grayshade - Enemy of the State
Accusations levied by Dain Tornbrook ))
Allies, Enemies, & Other Associations
Adeodatus Exitium: the priest of Bane is one of the most chivalrous - and dangerous - men in the Valley. The two tiptoed around each other for a time, as Emiliana had no legal grounds on which to detain him, but his true colors were eventually revealed when he sieged Sestra during culmination of the Second Bloodmaim Wars. Now the Exarch of Sestra, Adeodatus is viewed as one of Emiliana's most hated enemies.
Amilynn Steles: the priestess and favored of Sune was someone with whom Emiliana had a friendly, sisterly relationship even though the Sunite's romantic involvement with Darius Blackwell was often uncertain. Considered an ally, the priestess was perhaps the only follower of Sune that Emiliana could tolerate for any length of time.
Anasath Zesiro: the priestess of Lathander and the Legionnaire never really shared a close friendship, but the two were still allies. Emiliana deeply regrets her failures in the Abyss that allowed Anasath to be captured by Graz'zt. Even after her return to the Valley, Emiliana feels that she failed the priestess during her quest for answers. Anasath took her own life at the culmination of that quest, and Emiliana is still haunted by the memories of watching the woman die in her arms.
Aurora (Van Hellstrom) Sanneset: the disowned noblewoman was someone with whom Emiliana shared many similar traits, opinions, and interests. Their friendship was tentative at times since Aurora was under Emiliana's command in the Legion, and a mistake by Aurora and subsequent chastisement by Emiliana is what earned the latter the "Iron Fist" moniker from Aurora's husband, Hastian. Aurora was killed during the battle at Arbiter's Stand alongside many other Legionnaires, and Emiliana still quietly grieves the loss of her friend.
Bjorn Raskstal: the Legionnaire is someone with whom Emiliana once had a volatile relationship. Neither she nor Bjorn trusted the other, and Emiliana was reluctant to allow Bjorn into the ranks of the Legion. Over time, however, the man has proven his worth again and again, and the two have developed a very close working relationship.
Dain Tornbrook: the actions the paladin of Tyr took concerning the return of Myrkul prompted Emiliana to view Dain as an arrogant, self-righteous bastard - and he (and almost everyone else) knew how she felt. However, she gradually began to warm towards him and saw a side of the man to which few are privy. A passionate, on-again off-again romance sparked between them, but the path towards true happiness together proved to be too rocky. Despite their parting, they maintained a professional (if not heavily strained) alliance, but even it was threatened by the terse disrespect and disdain that festered between them. The paladin's retirement from active duty effectively ended their interactions for a time, much to Emiliana's relief. His return briefly stirred a bevy of emotions within her, but she finally put them to rest. The two rarely interact, and when they do, few words are exchanged. His questioning of her integrity and competency regarding someone she declared an Enemy of the State hurt her more than she expected, and she feels the man has completely lost his sense of perspective when it comes to knowing the difference between allies and enemies.
Daniel Nobody: the charming gray-eyed man is someone who intrigued Emiliana since their lives are so different. Although they both were raised in Waterdeep, Emiliana knew a privileged family life while orphaned Daniel lived amongst the gypsies. Their intellectual conversations, despite the fact that they frequently resulted in opposing viewpoints, stimulated the bard. She and Daniel went to dinner and spent more time getting to know each other when his treasure-hunting and her Legion duties allowed them rare moments of leisure. Their relationship remained 'undefined' for the longest time despite the subtle, growing affection between the two. Even when she learned of his nefarious affiliations, she maintained her optimism that they could share a life together and had him at her side when she was promoted to Centurio. However, time on the battlefield changed her mind, and she has since purposely avoided the man - not because of a lack of affection, but because she realized that their lifestyles would eventually put them at odds. The understanding appears mutual, and the two enjoy the occasional exchange of banter from time to time.
Danté Swift: the Left Hand of Mundus served as an apprentice to Archmagus Yevelian the Grey, a Right Hand, and it is for this reason alone that Emiliana can tolerate a Left Hand. Danté's quiet but prying mannerisms unnerve her at times, but she considers him a capable arcanist and ally. She believed that he wanted a romantic relationship with her, but when the Legionnaire kept their interactions strictly professional, Danté seemed to abandon the notion - for a time. His profession of love for her on her twentieth birthday has complicated their professional relationship, as Emiliana no longer feels that she is worthy or deserving of any affections.
Darius Blackwell: her older brother is easily Emiliana's closest friend and ally, even though the two are known to bicker and fuss like true siblings. The pair complement each other well in combat, and they often travel together throughout the Valley. Darius' tendency to try and take charge in situations where Emiliana has authority used to annoy her to no end, but frequent reminders of their roles eventually tempered his zeal. She is prone to 'mothering' him, and nothing can unravel her composure more than when he is hurt or threatened. Above everyone else, he commands her full attention and aid when such is needed, and woe be it to the person or entity who seeks to harm him.
Deacon Seatric: the bald-headed flirt, affectionately nicknamed 'Twinkles' by Emiliana, was the first man she kissed after arriving in Sundren. The two shared a very warm, but ultimately star-crossed relationship that ended before it even started once she joined the Legion. The dress Twinkles gave her remains one of her favorites.
Eirimil Gaelazair: the Archmagus within the Left Hands of Mundus was someone whom Emiliana absolutely loathed. The elf was perceived as arrogant, and he continued to be disrespectful towards her and her rank despite the fact that his own high status was obtained through well-placed donations instead of earned with actions. While she never outright denied that he had some useful arcane talents, she made it a point not to involve him with any of her affairs. The two were briefly locked in a political stalemate, but both were too high ranked to cause the other any lasting detriment.
Erik Halfgar: the shy young man was one of the first people Emiliana met when she arrived in Sundren. Despite them being the same age, Erik's quiet, timid mannerisms evoked her maternal instincts, and she cared for him in a very fierce, protective way. After a disagreement in which he failed to listen to her orders, the two drifted apart, and Emiliana has not seen him in a very long time.
Hastian Sanneset: the Right Hand of Mundus was her unofficial but longstanding partner in the Legion, and the two shared an easy-going, sibling-like camaraderie that belied the deadly power the two could wield when together. Hastian was second only to Darius on Emiliana's list of priorities; if the sorcerer needed her, she immediately answered. Following the death of his wife, Aurora, Hastian chose to return to his homeland of Hillsfar for an indefinite amount of time, and Emiliana still sorely misses him.
Isaac LaCroix: the nobleman has been a source of curiosity for Emiliana ever since he proposed to her. She remains uncertain as to whether he wanted to wed her solely for mutual benefit, or if he possessed legitimate romantic desires as well. His position as the Myrios of the Fourth Legion means that he is her commanding officer, but his whispered words to her during her promotion to Centurio reinforced the fact that she is not well-liked by the man.
James Arrow: the self-titled 'Vagrant Priest of Shaundakul and Part-Time Hand of Mundus' was someone with whom Emiliana enjoyed a light-hearted, good-natured working relationship. His eccentric nature often caused the Legionnaire to shake her head, but she knew that she could depend upon his aid if a situation required him to focus. Much to her delight, he occasionally treated her to chocolates or lemon candies after scribing scrolls or deciphering cryptic notes for her. The mage then became reclusive, and Emiliana hopes that he has not gotten himself into trouble.
James Frazer: the be-goggled Hand of Mundus is the epitome of "absent-minded genius." His abilities to craft and create are vast, and it was he who taught Emiliana about the explosive devices she later employed in the Second Bloodmaim Wars. The Legionnaire values James' insight when it comes to gadgets and gizmos, although she worries that his complete lack of awareness to his surroundings will one day get him killed.
Johanna Patson: the Luckbringer of Tymora was someone who both attracted and repelled Emiliana. Initially, their similar exuberant personalities allowed them to form an instant friendship, but then they started to drift apart once Emiliana placed more focus on her Legion career. Johanna's continued associations with vampires further distanced the pair, and their once-close friendship dwindled to an occasional conversation every now and again. They were long-separated due to various reasons, but they briefly rekindled their intense, sisterly relationship before the fickle whim of Luck took Johanna elsewhere again. Emiliana is confident that Johanna will find her way back to the Valley when no one is expecting her.
Kirk "Shadestrike" Carshby: the ruthless, feared, but disarmingly polite criminal mastermind became an unexpected ally to Emiliana during the Second Bloodmaim Wars. The aid he and his 'family' provided on the battlefield - as well as the information they provided off the battlefield - proved invaluable. The Legionnaire knows that an alliance with a criminal cannot last, but she is loathe to cast Shadestrike aside when the State may yet benefit from his expertise.
Kyle Rendell: the boastful Blackwood Company swordsman is someone for whom Emiliana has mixed feelings. His skill with a blade is unmatched, but the flippant way he speaks to her and disrespects her authority irritates her to no end. She will be polite and professional towards Kyle when needed, but most of the time she finds a reason to depart from his presence as soon as possible.
Lasvi Norreitryn: the sun elf is someone whom Emiliana once detested due to Lasvi's involvement with Dain Tornbrook, but the two women briefly bonded over their shared heartbreak by him. After a particular incident in which the elf was held as a prisoner of the State by Dain Tornbrook, Lasvi abruptly turned against Emiliana despite the Legionnaire's efforts to aid her and gain back her freedom. The callous treatment struck a nerve, and Emiliana had no desire to interact with Lasvi except as duty dictated. Mediation by Darius Blackwell resulted in what Emiliana considered a half-hearted apology note, and the subsequent return invitation has gone unanswered. The vitriolic nature of the elf and the coddling that others give her because of it completely baffles Emiliana.
Lysandra Blackwell: the tall, dark-haired Blackwell cousin was a complete opposite - physically and personality-wise - of Emiliana. Affectionately called 'Lizzy' by Emiliana, Lysandra was the reason that the bard traveled to Sundren and part of the reason that she stayed. The two have always been close despite their differences, and Emiliana has missed Lysandra ever since she departed from the Valley.
Maia Nanethiel: the self-proclaimed "Faerie Queen" was a source of both friendship and ire for the Legionnaire. Maia remembered Emiliana as the vibrant young girl she used to be instead of the stalwart soldier she is today, and Emiliana cherished the old memories and insight that Maia occasionally provided. However, the fey's mischievous, self-promoting antics had a tendency to cause trouble with others, and Emiliana usually had to find a balance between aiding Maia and chastising her. The elf's interference in a duel between champions of Bane and Torm during the Second Bloodmaim Wars resulted in her being disintegrated by a flash of red lightning, and thus the reign of the Queen was brought to an untimely end.
Marcus Helevorn: the Devil-weed smoking ne'er-do-well was someone with whom Emiliana shared sarcastic, flirtatious banter on the rare occasions that they saw each other. Emiliana once thought that she was in love with the man, but he quickly (and wisely) angered and hurt her with his seemingly callous actions. Their dynamic was reset, and although the almost-romance was never again seriously discussed, the two still engage in their banter from time to time when they happen to see each other.
Mortannis: the card-reading, fortune-telling mystic was someone in whom Emiliana once placed a lot of faith and trust. Arresting him was one of the more painful experiences of her life. The pair shared a very gentle, affectionately flirtatious relationship, although the cards suggested that something stronger might eventually occur. Learning that he became a vampire during her absence from the Valley surprised Emiliana, and she eventually fought her former friend after she confronted him with the fact that she knew the truth about him. Their relationship remained volatile, as Emiliana was torn between her duty to end threats to Sundren and the fact that Mortannis was her friend. His abrupt disappearance puzzled her, although she eventually decided that whatever happened to cause it was likely for the best.
Olivia Blackwell: the young paladin of Lathander endured a horrific kidnapping and beating by the Black Hand, but the grim incident bolstered her resolve instead of breaking it. Olivia currently serves as a newly enlisted Legionnaire with Emiliana as her commanding officer, and Olivia has surprised and impressed her cousin with her determination to triumph over enemies.
Osclow Wiltenholm: the famed bard was from an era of heroes who existed long before Emiliana stepped foot into the Valley, and she immensely enjoyed listening to the storyteller when he was in the mood to share the past. His concern for his home within the Viridale during the Bloodmaim threat brought him to Emiliana for aid, which she freely offered, but then an odd follow-up missive tossed her promises aside. Osclow later apologized for his error in judgment, but Emiliana kept the man at a polite distance after the abrupt, random rebuke. After the Second Bloodmaim Wars ended and his long-time friend Maia Nanethiel was killed, Osclow and his family departed the Valley.
Peridan Twilight: the One-Eyed Dog of the Legion was already a well-respected commanding officer well before Emiliana even knew anything about the Legion. The two rarely interacted, as Peridan's duties were with the Twelfth Legion versus Emiliana's role in the Fourth. Still, the young woman greatly admired and tried to emulate the stalwart elf, and following his death to Bloodmaim, she finally had her inner left wrist branded and tattooed with the symbol of the Fourth in the old, traditional manner of Legionnaires. The mark serves both as a physical symbol of her loyalty to the Legion as well as a homage to the fallen soldier.
Ruby Heartstone Serrano: the seductive vampiress first threatened Emiliana when word of her relationship with Dain Tornbrook reached Ruby's ears. Even when the vampiress was told that Emiliana and Dain parted ways, Ruby still considered the Legionnaire a threat. The vampiress went so far as stalking the Legionnaire and leaving taunting notes at Emiliana's suite, and the two women have engaged in several vicious physical fights.
Ryland Padant: the vigilant knight and favored of Helm was one of Emiliana's most trusted allies as well as her lover. He loyally fought by her side when they first met, and his quiet patience and steadfast nature finally prompted the Legionnaire to view him as someone more than just a friend. Their mutual duties - hers with the Legion and his with the Temple of Helm - kept them apart, and a lack of communication from the knight resulted in Emiliana assuming that he abandoned her in the same cruel manner as William Shepard. His whereabouts following the Second Bloodmaim Wars are officially "unknown," and Emiliana presumes the knight dead.
Tigen Amastacia: the elf was someone for whom Emiliana held a great deal of respect, and she viewed him as her mentor and confidante. His wisdom and guidance helped shape her first few days in Sundren, and she considered him one of her dearest friends. They had their differences and disagreements, and their duties often kept them apart, but the Legionnaire had a permanent soft spot within her heart for him. His abrupt, unexplained disappearance from the Valley left the Legionnaire wondering about his whereabouts, and she hopes that he will one day return.
Ulrich Lecuyer: the handsome Legionnaire favored by Kelemvor, and later Helm, was someone with whom Emiliana fully intended to spend the rest of her life. Watching him die deeply affected her, and although she still feels the loss of the patient, romantic, kind-hearted man, time finally allowed her to move past the Cormyrian.
Valten Tussuand: the former priest of Kelemvor was another of Emiliana's trusted mentors, as it was he who helped her overcome her anxieties regarding her role in the Legion. He gave her clarity and perspective, and she credits Valten with making her a better soldier. His recent return to the Valley and interest in joining the Legion has placed Emiliana in a position where she might one day give orders to the very man who once guided her in her career.
William Shepard: the Faithless Legionnaire was Emiliana's first lover, but when he disappeared without a word, she agonized for months before moving on with her life. Shortly after she met someone new, William returned to the Valley. He refused to speak more than a few words to her, and soon he left again to parts unknown. Emiliana has never fully forgiven him for abandoning her, and should they ever meet again, the scene will not be pleasant.
Miscellaneous Information
Everything listed here is considered common knowledge.
Emiliana is a skilled alchemist as well as an expert tailor. She maintains a notice on the Exigo Trading Post bulletin board that details her services.
Emiliana suffers painful headaches whenever she receives magical Sending spells from anyone. The cause of the pain is unknown, but receiving replies others give to her own Sendings does not affect her.
Emiliana has an affinity for lemon-flavored hard candies, and she almost always asks for extra lemon with her tea.
Emiliana keeps several animals: Adagio, a cat; Hopkins, a rabbit; and Heimer, a rooster. She also possesses a miniature mechanical golem, modeled after the premier Exigo Prime protectors, called Sprocket.
In addition to the thin golden harp (the holy symbol of Milil) that she wears on a chain around her neck, Emiliana keeps with her a small collection of holy symbols. She possesses a Luckbringer's golden coin, a pendant bearing the holy symbol of Helm, a silver chain that has the symbol of Selûne drawn in silver ink upon a piece of sturdy parchment, a heavy pin bearing the holy symbol of Tempus, a golden disk featuring the symbol of Lathander, and a pendant bearing the holy symbol of Torm.
Although they are rarely seen in public, since she is almost always armored, Emiliana has a combination brand/tattoo on both inner wrists. On her left inner wrist is a simple 'IV' surrounded by ivy, and the design is about two inches tall by two inches wide. The symbol denotes the Fourth Legion to which she belonged prior to its demise during the Second Bloodmaim Wars. On her right inner wrist is a larger, curvier 'X' surrounded by a simple black circle, and the design dimensions are approximately the same as its mate. The tattoo represents the reformed Tenth Legion that Emiliana now commands.
Images
A collection of screenshots and artwork from various points in Emiliana's life can be found by viewing the Emiliana's Images page.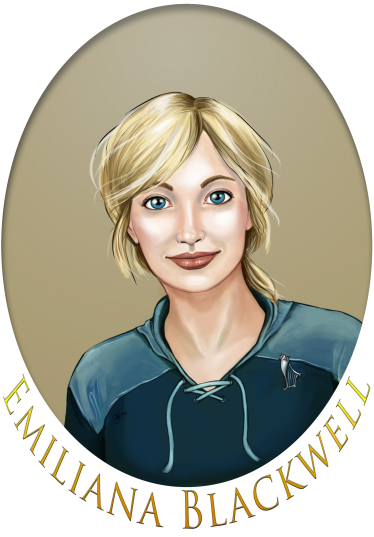 (Commissioned artwork drawn by TofuBravado)
Journal
Although she does not keep a personal written account of her life, snippets of Emiliana's thoughts, feelings, and experiences can be read here.